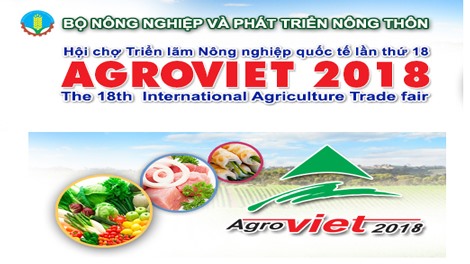 Themed "High-tech farm produces towards sustainable agricultural development", AgroViet 2018 gives the agriculture sector a chance to boost international cooperation while connecting businesses and consumers. — VNA Photo
Viet Nam News
HÀ NỘI – The central city of Đà Nẵng will host the 18th Việt Nam International Agriculture Trade Fair (AgroViet 2018) from June 28 to July 1, organisers announced.
The announcement was made at a press conference in Hà Nội on June 18.
Themed "High-tech farm produces towards sustainable agricultural development", AgroViet 2018 gives the agriculture sector a chance to boost international cooperation while connecting businesses and consumers, creating opportunities for enterprises to promote the domestic market.
The event will feature high-quality agro-forestry-fishery and handicraft products and introduce new technologies in agricultural production.
With about 180 booths, the fair will showcase equipment and machines used in agricultural production and processing, veterinary drugs, pesticides, and safe agricultural and aquatic products, as well as animal and plant varieties.
The annual event, one of the biggest agriculture fairs in Vietnam, will also draw 18 agricultural firms from Thailand.
Đào Văn Hồ, director of the Trade Promotion Centre for Agriculture, said the fair will highlight achievements in science and technology for producing safe and organic agricultural and aquatic products with the aim of improving the image of Vietnamese agriculture in both domestic and foreign markets.The fair will also provide spaces for provinces and enterprises to showcase their capacity and potential to attract investments.
The organising board also announced at the press conference the holding of a trade fair for safe farm products with geographical indications (GI) and a Chi Lăng custard-apple and Lạng Sơn specialties week, slated for August 22 to 28 in Hà Nội.
With 200 pavilions, the specialties week will showcase safe and GI-certified agricultural products, along with Chi Lăng custard-apple, flowers, and handicraft products of the northern mountainous province of Lạng Sơn.
Currently, the province has over 2,800 hectares of custard-apple trees with an output of over 26,000 tonnes, of which 152 hectares are cultivated in accordance with VietGAP standards and five hectares to GlobalGAP standards. Last year, revenues from sales of the fruit reached over US$700 million.
Custard-apples from Lạng Sơn ripen from the middle of the fifth month to the ninth month of the lunar calendar.
A Chi Lăng custard-apple day will be held in mid-August in Lạng Sơn Province. -VNS
Nguồn: vietnamnews.vn