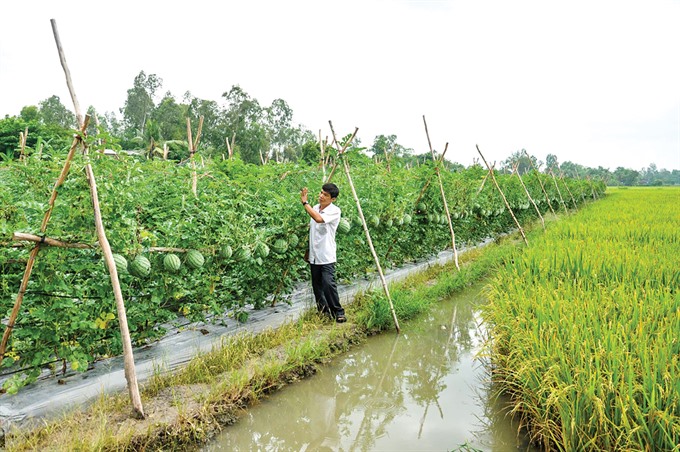 The Netherlands seeks to establish a partnership with Việt Nam's Mekong Delta city of Cần Thơ in agriculture. - Photo baocantho.com.vn
Viet Nam News
CẦN THƠ — The Netherlands seeks to establish a partnership with Việt Nam's Mekong Delta city of Cần Thơ in hi-tech agriculture.
The two sides share many similarities in soil and climatic conditions as well as major agricultural products, said Dutch Consul General in HCM City Simon van der Burg at a working session with representatives of the municipal People's Committee on Wednesday.
He said local authorities and businesses had developed the farming sector and upgraded machines and technologies, which attracted many Dutch firms, including De Heus, Friesland Campina and Nova Exhibitions.
He also pointed out bottlenecks in the local agricultural sector regarding logistics services and planning of high-tech agricultural areas.
Besides, investors face challenges relating to capital, market and partners in organisation and management, Burg said.
He suggested Cần Thơ to improve legal documents and review planning schemes of agricultural production areas. The city should also raise the quality and competitiveness of products and focus on personnel training and technological transfer to businesses, he added.
According to Burg, the Dutch Consulate General would like to coordinate with the municipal authorities to connect local businesses and farming households with foreign partners, including those from the Netherlands. In addition to this, the Netherlands will send experts in post-harvest technologies to Cần Thơ, helping the locality reduce its post-harvest losses, while assisting the city in importing model machines and equipment for agricultural production processing, preservation and packaging.
Burg urged Cần Thơ to form a business-friendly legal network, improve the local infrastructure system and quality of human resources as well as intensify promotion activities to lure enterprises that target sustainable development, social responsibility and eco-friendly operations. Instead of devising planning schemes for short terms of five or 10 years, Cần Thơ should set long-term and specific goals, Burg suggested.
Speaking at the working session, Nguyễn Thị Kiều, deputy director of the municipal Department of Agriculture and Rural Development, said Cần Thơ regarded advanced technology as key to the local agricultural sector amidst international integration.
She briefed the Dutch diplomat on high-tech application in the city in the past, which, she said, had brought positive results.
Vice chairman of the municipal People's Committee Trương Quang Hoài Nam expressed his belief in cooperation prospects between the two sides and pledged to offer the most preferential policies along with an open and favourable investment environment to Dutch businesses. — VNS
Nguồn: vietnamnews.vn