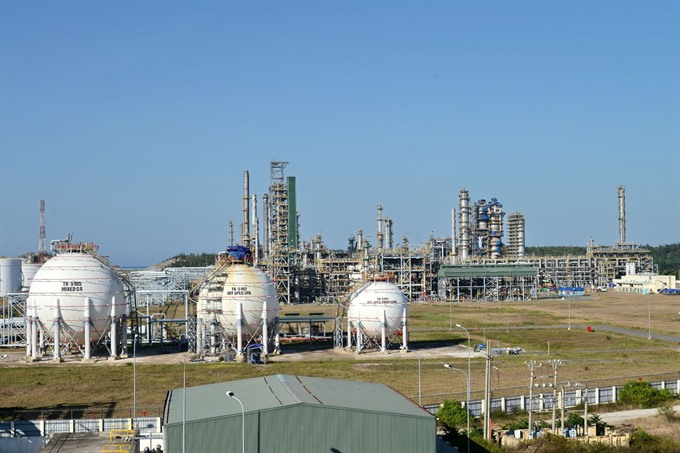 BSR continues to be the second largest profitable company in PetroVietnam (after PV Gas), contributing 30 per cent of PetroVietnam's total profits. — Photo baodautu.vn
Viet Nam News
HÀ NỘI — Bình Sơn Refining and Petrochemical Co Ltd (BSR) will hold its first shareholders' meeting on June 21 in Quảng Ngãi City - five months since its initial public offering (IPO) at the beginning of the year.
The meeting is expected to endorse the company's post-IPO important issues such as transforming into a joint stock company model, charter capital, corporate governance regulations, management board members and 2018 business targets.
BSR's charter capital will be more than VNĐ31 trillion (US$1.36 billion) at the time of the shareholders' meeting, equivalent to more than 3.1 billion shares.
After changing into a joint stock company, PetroVietnam will gradually decrease its holdings in BSR in comply with the Government's direction.
In the January IPO, BSR sold nearly 242 million shares, equivalent to a 7.79 per cent capital, to the public, earning the State budget about VNĐ5.5 trillion. It marked Việt Nam's largest IPO this year, valuing the company at $2 billion.
According to Trần Ngọc Nguyên, BSR general director, market demand for refined products tends to decline in many countries, while petrochemicals market demand continues to rise.
BSR hopes to seek foreign strategic investors to help the company develop petrochemicals business, as well as increase its product quality and competitiveness.
BSR plans to sell a 49-per-cent stake to strategic investors after the IPO.
As of end-March, Petrolimex and Indial Oil Corp have filed to be BSR's strategic investors while others such as Pertamina (Indonesia) and Bangchak Corporation Public Co Ltd (Thailand) are considering.
First-half business results
The operator of $3 billion Dung Quất oil refinery has targeted total sales of VNĐ78.1 trillion ($3.5 billion) for the whole year, of which its first-half revenue is estimated at VNĐ55.36 trillion ($2.4 billion), equivalent to 70.9 per cent of the yearly goal and up 42.9 per cent against the first-haft target.
Its net profit is expected to reach VNĐ2.95 trillion ($129 million) by the end of June, exceeding the six-month target by 70.7 per cent and completing 84.7 per cent of the target set for the whole year.
With this result, BSR continues to be the second largest profitable company in PetroVietnam (after PV Gas), contributing 30 per cent of PetroVietnam's total profits.
Its total output will likely reach 3.6 million tonnes in the first half, equivalent to 56.6 per cent of the yearly goal of 6.3 million tonnes. Its sales volume is expected at 3.6 million tonnes, completing 57.2 per cent of the yearly target.
According to Nguyên, lower crude oil consumption and production optimisation helped the company reduce cost and increase profit.
In the next six months, Nguyên said BSR aimed to produce and consume more than 3.18 million tonnes of products and earn after-tax profit of VNĐ1.75 trillion. — VNS
Nguồn: vietnamnews.vn